It's officially Rare Disease Day 2018 – the major event of the year where the global rare disease community come together in unity and solidarity, to champion for our rights and further the rare disease cause (see Rare Disease Day 2018 – Join in and #ShowYourRare)
I could have so easily focussed here on what's happening in the haemophilia space right now. But as important as this is to me, I wanted to bring it back to a more personal level and think about those for whom haemophilia can impact on, beyond the individual affected.
In particular, what is it like to be in a relationship and commit yourself to someone living with haemophilia? Well, I thought what better opportunity than to ask my own brother's girlfriend, Jackie for her unique perspective!
For those of you not familiar with our bleeding disorder, in most cases it's inherited and the genetic mutation is passed on from mother to son. In my family's case, my two older brothers and I were all diagnosed with severe clotting factor FVIII deficiency at birth (see About).
My oldest brother, Andy, aged 33, is like many haemophilia 'millennials' and dealing today with the legacy of his early treatment and care. As his partner, Jackie is seeing this for herself and so, shares with us a snapshot of their world…
⇓

When I first met Andy, I didn't know he had a rare condition. He's one of approximately six to eight thousand people registered in the UK living with haemophilia, which to you and I is a type of bleeding disorder. The numbers may be small, but the impact on those people's lives, and the people they love, can be really significant.
Andy's blood lacks the ability to clot properly and without appropriate treatment, he is susceptible to prolonged bleeding, and possibly lasting damage to his body. The replacement clotting factor, although largely effective, can only be administered through intravenous injections – something you have to get comfortable with fairly quickly if you plan, as I do, to spend a lifetime with someone living with haemophilia.
It was only last year, however, that I truly realised the severity of Andy's condition. We were sitting with his surgeon at the Royal London Hospital, facing the decision as to whether or not Andy should undergo a major operation to have his left ankle joint fused in place. He would no longer be able to bend it or run but on the other hand, it would relieve him of the chronic pain he was experiencing. We had been together for almost five years and I confess that up until that point, I had been relatively ignorant to the long-term implications of his bleeding episodes.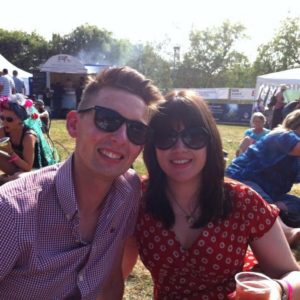 Of course, from the moment we started dating, I had lots of questions about his haemophilia. But Andy has always played it down, probably so as not to worry me. If I did have any misconceptions, he's always helped me try to understand. I strangely got used to receiving texts to say he'd had to have a treatment at work because of a bad bleed, or him waking me up in the middle of the night because one of his joints was swollen – usually his right elbow.
This can be the reality of haemophilia for us.
But it was in that moment at the hospital when it hit home; the impact of decisions Andy had made in the past, and the choices he makes now about his healthcare, could have long-term effects on his life… and on our life together!
Until recently, Andy had not used clotting factor preventatively, only on demand once he felt a bleed was coming on. For him, treating as much as every other day, or even daily wasn't something he felt necessary. But thanks to the option of a new, longer-acting treatment – and much nagging from me to ask to go onto it – he now has two injections a week. This gives Andy much better protection than he's previously had, and it's already made a positive difference to our everyday living.
After much soul searching between us, Andy went ahead with the operation in 2016. It wasn't straightforward and there were multiple specialists and care teams involved. For someone with a severe form of haemophilia, even a simple trip to the dentist can have added complications, let alone spending five hours in theatre like Andy did. He spent the next eight days recovering in hospital, followed by six weeks on crutches and several weeks walking with a supportive boot. Still, it's been well worth it in the end.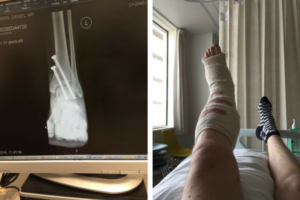 Just a couple of months later, we climbed Mount Snowdon together (albeit very slowly) and reached the summit! We're also planning a trip to Peru to trek the historic Machu Picchu later this year. As with any holiday abroad, there's lots of planning we have to do in advance to locate haemophilia centres in the country we're visiting and making sure he has plenty of clotting factor to take away in case of any emergencies.
As yet, there is no bona fide cure for haemophilia. Even though I can't actually say what it's really like on the not-so-good days, I'm still there seeing every day what Andy has to go through. I never want Andy's condition to hold him or us back and hope that with my love and support, we can make our future together unforgettable!
♥
The team and I are so pleased Jackie took the time to do this for us (and without embarrassing Andy too much!).
If you, too, are a partner or a caregiver of someone with haemophilia and would like further advice and support, please visit The Haemophilia Society UK; the UK's only independent charity for everyone affected by an inherited bleeding disorder.
For more information on Rare Disease Day and to #ShowYourRare, head over to the official website.
If you have any questions or comments for us, please get in touch through Facebook, Twitter or by email at info@onthepulseconsultancy.com.
Take care,
Laurence