The winter 2020/21 edition of Rare Revolution Magazine is out today, featuring an article from On The Pulse, titled: "Spotlight on the 'Covid Generation' and transitional healthcare for young people."
This is our third formal contribution to the digital magazine, with this latest issue (No. 018) opening up the conversation on 'RARE Transition'.
On The Pulse Director, Laurence Woollard, was pleased to be joined by Simon Stones as co-author; himself a leading patient thought-leader and advocate, as well as having extensive experience advising on health system strategies for children and young people living with rare and chronic conditions.
'Lost in transition'
Laurence commented on the meaning and purpose behind the article:
"The transition of young people with long-term health conditions from childhood to adulthood, and the part health services should play in the transfer of their healthcare, have been on the health policy agenda since the turn of the Millennium. It's no secret that this transition is often accompanied by poor health and social outcomes in terms of disease control, social participation and educational achievement.

What's significant today is the emerging evidence on the economic and social impact of the COVID-19 pandemic, showing that young people are one of the worst-affected groups, particularly in terms of the labour market and mental health outcomes. It has also exposed deep-rooted inequities in education, health and the workforce across the UK.

The publishing of the new issue of Rare Revolution Magazine and its focus on transition, presents a vital opportunity to get the message across to stakeholders that young people living with long-term health needs shouldn't be left behind. Given the insecurity of the educational, social and emotional support provisions, it is urgent that creative and innovative ways are found to promote young people's capabilities as well as providing channels into employment."
Simon added:
"Although we are in the midst of one of the biggest crises our society has seen, we simply cannot forget or deprioritise the needs of some of our most vulnerable people in society. Regardless of COVID-19, the physical and psychosocial health needs of young people with long-term health conditions remains – and if anything, is even more at risk than before. That's not to say that healthcare professionals and the healthcare system are purposely devaluing the importance of supporting these young people; it's just a reflection of the situation we find ourselves in.

If we fail to adequately support the holistic needs of young people now as they ready themselves for adulthood, we play with the risk of causing lasting damage to their health and wellbeing – the price of which will be paid now, and long into the future, by young people, their families, and wider society."
You can read the article between pages 52-54 here.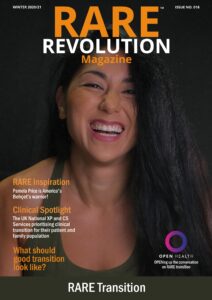 About Rare Revolution Magazine
Rare Revolution is a first of its kind digital magazine, giving a voice to patients and their families impacted by rare conditions and the charities and organisations that represent and support them.
We're very proud to call ourselves Rare Revolutionaries and endorse this home-grown non-profit venture by two sisters, themselves members of a rare disease family. In June 2021, they'll be celebrating the magazine's 5th anniversary!
It's free to subscribe – find out more here. You can also follow the team on Facebook and Twitter.
Contact us
Have any questions or would like to know more? Please get in touch via our contact page (you can refer to our privacy policy statement here).
You can also connect with us on Twitter, Instagram and LinkedIn.
On The Pulse