On The Pulse is pleased to announce a new partnership that will see director, Laurence Woollard, script and host the Global Hemophilia Report podcast by Bloodstream Media; the podcast network created and produced by Believe Limited.
The partnership term lasts for the remainder of the calendar year to reflect the podcast schedule, which includes up to 8 episode releases – one per month – of the 12-episode series.
Believe Limited's founder and CEO, Patrick James Lynch, commented about the partnership:
"The Global Hemophilia Report is a podcast that aims to make learning about the latest and greatest in hemophilia-related research as entertaining as it is informative for the clinicians, researchers and advocates around the world who are listening.

For these reasons, I am thrilled to have Laurence from On The Pulse join the show as host and writer. He has such commitment and passion for education in bleeding disorders. The audience is really going to benefit from his authorship on the show going forward."
Laurence added:
"Here at On The Pulse, we are huge fans of what Believe Limited do. The content and initiatives that they create and produce has undeniable positive social effects and impact on people living with bleeding disorders and other communities globally, so this partnership is a great fit.

Personally speaking, I was already a fan of and subscriber to the Global Hemophilia Report, which has been tackling some of the biggest challenges that people living with our condition face. I am excited to be following in Patrick's footsteps and taking over the reigns as the podcast's author-narrator for the remainder of the series."
What is the Global Hemophilia Report?
Led by science, curiosity and storytelling, the Global Hemophilia Report is a once-monthly podcast that guides listeners on an audio journey through the foundational and investigative science driving the haemophilia patient experience, globally, right now.
It features key data insights and commentary from some of the most influential thought leaders, researchers and expert clinicians in the international bleeding disorders community, alongside untold stories from labs, treatment centres and patient homes.
The Senior Advisor to the Global Hemophilia Report is Dr. Donna DiMichele, a renowned former Professor of Paediatrics and Public Health and Centre Director for haemophilia and coagulation disorders at the New York-Presbyterian/Weill Cornell Medical Center. Dr. DiMichele was also Deputy Director for the Division of Blood Diseases and Resources at the National Heart, Lung and Blood Institute, part of the National Institutes for Health in the US.
To date, the Global Hemophilia Report has tackled topical issues, such as inhibitors, novel therapies, prophylaxis and joint health. The next episode in the series, episode 5, drops on Thursday 16th June 2022 and explores the intersectionality between haemophilia and mental health in young people. This will be Laurence's first show as writer and presenter.
To be notified of episode 5 and future episodes, be sure to subscribe to the Global Hemophilia Report on Apple Podcasts, Spotify or wherever you listen. You can also find the Global Hemophilia Report's social media pages on LinkedIn, Twitter and Facebook.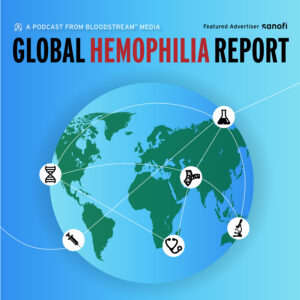 About Believe Limited
Believe Limited is an award-winning boutique agency focused on creating educational, inspirational and deeply impactful digital content, live events, podcasts and more for rare disease communities. They have a deeply-rooted focus in haemophilia and other bleeding disorders, including Breaking Through! Musical Theatre Intensive and the BloodStream Media podcast network, in which On The Pulse has previously featured.
Believe Limited's health-related work includes: Bombardier Blood (Executive Producer: Alex Borstein), My Beautiful Stutter (Executive Producers: Paul Rudd, Mariska Hargitay) and sometimes, i think about dying (Sundance Film Festival 2019; Oscars shortlist 2020).
To learn more about Believe Limited, visit their website.
Contact us
Do you have questions about our partnership announcement with Believe Limited or would like to know more about what we do? Please get in touch via our contact page (you can refer to our privacy policy statement here).
You can also connect with us on Twitter, Instagram and LinkedIn.
On The Pulse
---
Editor's note
The different spellings of haemophilia and certain institutions reflects the differences in British English and American English that we are keen to observe with our American partners.