We are excited to be participating in-person at the World Federation of Hemophilia (WFH) 2022 World Congress, taking place between Sunday, May 8 and Wednesday, May 11 at the Palais de congrès in Montréal, Canada. 
The WFH World Congress is the biggest event for the global inherited bleeding disorders community. This is the first international hybrid meeting with a live component that we will be attending since the outbreak of COVID-19 two years ago. Back then, the biannual meeting was purely virtual (as we reported) but with the loosening of public health restrictions and safety precautions in place, we can now travel and reconnect with other stakeholders and partners.
The Congress programme will cover the latest developments in the field, current patient healthcare issues and the challenges ahead for the management and treatment of haemophilia, von Willebrand disorder, rare factor deficiencies and inherited platelet disorders. View the full schedule here.
Speaker session: 'Social Media: Boon or Bane?'
Luckily for us, we will be contributing to the programme on Tuesday, May 10 as part of a multidisciplinary session titled, 'Social Media: Boon or Bane?'.
On The Pulse director, Laurence Woollard, will be presenting interim results of a Service Evaluation Survey into online information and support, including social media, for patients under the care of Basingstoke Haemophilia Centre in the UK. This has been a joint project between On The Pulse, the Southern Haemophilia Network (part of Hampshire Hospitals NHS Foundation Trust) and the Brighton and Sussex Medical School, represented by Dr. Rich Gorman.
Dr. Sarah Mangles, Centre Director and Consultant Haematologist at Basingstoke, has Chaired the Evaluation Advisory Group, which includes Lara Oyesiku, Clinical Nurse Network Manager, and Maria Lewis, Administrative Assistant.
About the Service Evaluation Survey, Dr. Mangles said:
"Social media has added a totally new dimension to healthcare. Some patients and their families are more information savvy and informed than ever before. As a leading comprehensive care centre and clinical trial hub in the region, we care deeply about the views and perspectives of our patient population in how we can better improve our online information and support, particularly with regards to the role of social media around improving patient experience.

On behalf of the Evaluation Advisory Group here at Basingstoke and as part of the Southern Haemophilia Network, we are delighted that Laurence will be sharing the 5-week interim results of our single-centre survey that was sent to over 350 patients and caregivers. The WFH Congress in Montréal is a fantastic platform to promote patient priorities, therefore we hope colleagues and community members alike will take inspiration from our approach and that our provisional findings can help inform the broader discussion on the social value of investing in social media health promotion campaigns for inherited bleeding disorders."
Laurence will be joined on stage by fellow community advocate, Patrick James Lynch, Founder and CEO of Believe Limited, who will share his perspectives on the benefits and risks of social media. Also, Dawn Branley-Bell, a Senior Innovation Fellow within the Centre for Digital Citizens at Northumbria University in the UK, who is bringing her expertise in online communication and behaviour to discuss the evidence of positive outcomes from social media use. The session will be chaired by Diane Standish, a longtime social worker at the Hemophilia Center of Western Pennsylvania in the US and currently a member of the Psychosocial Committee of the WFH.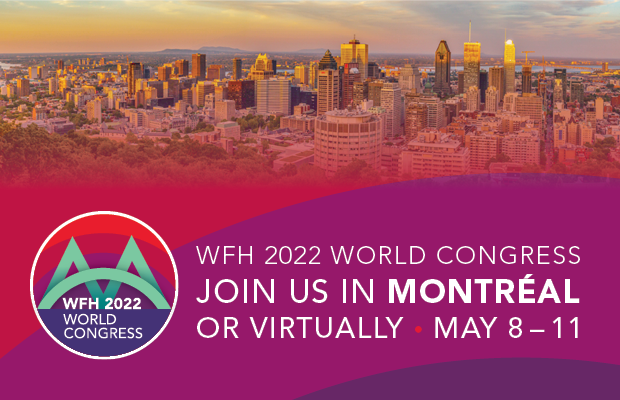 Contact us
Are you attending the WFH World Congress in Montréal or would like to know more about what we do? Please get in touch via our contact page (you can refer to our privacy policy statement here).
You can also connect with us on Twitter, Instagram and LinkedIn.
On The Pulse