Chris Bombardier's extraordinary endeavours have become the stuff of haemophilia folklore.
His quest was to scale the Seven Summits, and in doing so, he literally reached the top of the world – the "Goddess Mother of Mountains" we know as Mount Everest!
The curveball that makes it all the more jaw-droppingly incredible is that he has severe haemophilia!
In the first of our two-part feature, we heard Chris' fascinating account of his early experiences living with his condition, aspirations to play baseball and his challenges to self-manage (see Factor This! Series: An Interview with Chris Bombardier – Part 1 of 2).
We now continue with Chris contemplating his earliest major summit, made possible by a number of chance opportunities that would eventually lead him to climb for something much bigger than he, himself could ever have imagined…
1) Which mountain did you first set your sights on, Chris?

My uncle and I were talking about climbing Aconcagua down in South America. This was to be the first of the Seven Summits to conquer. But at that stage, it was all just a wild dream.
By chance, around the same time, I had the opportunity to go to Africa with my work. The Indiana Hemophilia & Thrombosis Centre (IHTC) were twinned with the group in Kenya and I was asked to help set up a basic laboratory at the hospital there.
I then realised Mount Kilimanjaro would only be a couple of hundred miles away in Tanzania. Clearly, this was going to be the best opportunity to climb it. I called my uncle straight away and he was like, "Let's do it!"
2) What was your experience of haemophilia care in Kenya?

It was just life-changing! When we got to the hospital, Dr. Anne Greist [co-medical director and adult haematologist at IHTC] came across a young boy around 14-years-old, who had just had his appendix taken out.
He had come in with abdominal pain, so the local doctors thought he had appendicitis. But it was super clear from his big elbows, knees and locked joints that he had haemophilia. Without the adequate education, the doctors just didn't know what haemophilia looked like!
By this point, we didn't have a lab set up yet to run the necessary tests. He'd been bleeding out for days. So, Dr. Greist had to guess what type of haemophilia the boy had. She gave him a bunch of donated, expired clotting factor VIII that we brought with us.
Amazingly, he survived!
This really changed my whole perspective on life. It made me think about what haemophilia really looks like without appropriate treatment and care. I wanted to do more for people in developing countries. It's where the passion really came from.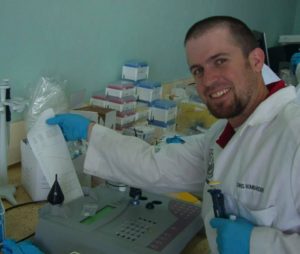 3) Is this how you became involved with Save One Life?

I had met Laurie Kelley [Founder] before going to Kenya. Strangely enough, she was going to climb Kilimanjaro as a fundraiser for Save One Life in the same year. I wanted to contribute to the organisation, too.
Six-months from that initial call with my uncle, we had reached the summit. It was a pretty calm climb, more like a hike. I said to myself, "I think I can do another one! What's next?" As soon as I got home, I called Laurie to see what else I could do. She took me under her wing and I was subsequently invited onto the Board of Trustees.
It's been really awesome to be part of the organisation and seeing the work that we're doing for families in countries where there's little to no treatment.
4) What were your initial thoughts about climbing Everest?

Raising money for Save One Life was going to be a challenge when climbing the lesser known mountains as part of the Seven Summits.
Take Aconcagua in Argentina. People were like, "What's that?" Actually, it's the highest mountain outside the Himalayan range at almost 23,000 feet. This was a really beautiful climb.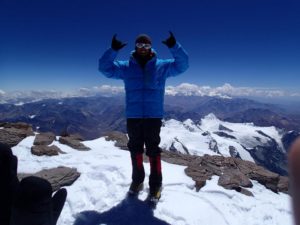 But who hasn't heard of Everest?! At 29,000 feet, it's only 6,000 short of the traditional flight altitude of a passenger plane. It's crazy! It was my intention to at least give it a shot. Still, it's a very intimidating mountain.
A lot of bad things have happened up there to people that don't have bleeding disorders. It's the highest mountain in the world and got a lot of history. It was pretty intense getting ready for that!
5) When did you consider making the documentary, Bombardier Blood?

It was about a year before. I called Patrick Lynch [CEO of Believe Limited] and was like, "If we're going to do a documentary about any of the mountains, it has to be this one!"
It was also the fact that Everest is located in Nepal, which is a country where haemophilia care is basic to non-existent. What a huge discrepancy; somebody with access is going to try to climb Everest, when the Nepalese haemophilia community are struggling to live!
6) How was your stay in Kathmandu before heading to Everest?

We met with the Nepal Haemophilia Society, who were the most gracious, welcoming people I've ever met! They took us to see the hospital and we visited lots of homes in the area and all over Nepal.
We heard some really devastating stories about how hard living with haemophilia there can be. It was pretty emotional and challenging personally; just knowing I have clotting factor and can treat prophylactically. If these guys get a bleed, they essentially have nothing.
But Patrick, Laurie, my wife and the whole team reminded me that by climbing Everest and making the film, we could raise more money to help these communities.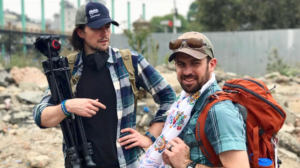 7) What was your trek to basecamp like?

All the books I've read about Everest talk of this incredible trek to basecamp and seeing the Himalayas for the first time. Man, those mountains are big!
They're beautiful and just so dramatic. Out of nowhere, you see these huge, steep faced, snow covered peaks… it was just spectacular!
Then I got a glimpse of Everest. I was still like 15 miles away but could see the top poking out from behind another mountain. I thought, "No way, I'm supposed to go up there?!" It's just so wild.
From base camp, I got to really comprehend what I was about to put myself through. It was both intimidating and nerve-wracking!
8) How did you find the climb of Everest itself?

It was wonderful but also extremely hard. There was a time on summit day, right near the top, where I truly thought about turning around.
There's a narrow, icy ridge line where it's possible to see 9,000 feet down to your left, and 11,000 on your right towards Tibet. It looks so scary.
The Sherpa [mountain guide] I was climbing with called Tashi, came up to me and said, "Chris, you're here for a reason; you have a mission and a purpose – you can do it!" He clipped one of his carabiner's [an essential piece of safety gear] to mine and just started walking. I had no choice but to keep going.
We eventually made it to the top and it was undoubtedly the coolest experience in my entire life!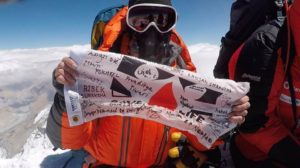 9) What was going through your mind at that moment?

It was just a whirlwind of everything. I almost started crying, or at least thought I would but it was impossible; I was so tired and with little oxygen from the high altitude.
I had this feeling of immense pride, not only for myself… I carried a Save One Life banner up there with me and had all the guys with haemophilia from Nepal sign it. It was like they were with me the whole time. Getting a picture with it was the best feeling.
I also got to talk to my wife. I didn't know this was going to happen. It was through a radio to base camp, where Rob Bradford [film crew] was facetiming my wife through an iPhone. To share that moment with her was super special, too.
And the view? I can't describe it… you feel like you're on top of the world, literally!
10) How did you find infusing on Everest?

The mountain presents a lot of risk, so increasing my treatment doses and frequency to raise my clotting factor levels was really important.
I happened to miss once, right before the summit push. Blew right through the vein. I was so annoyed, but I think it was mainly nerves and my mind was in so many different places.
The more challenging aspect was keeping the clotting factor from freezing. I put them in zip-up bags, which I then stuffed inside a bunch of wool socks. When climbing, I kept this in my backpack, so as close to my body as possible.
At night, it was in my sleeping bag. On the summit day, I actually had it in the front of my down suit [high altitude clothing] so the bottles didn't freeze.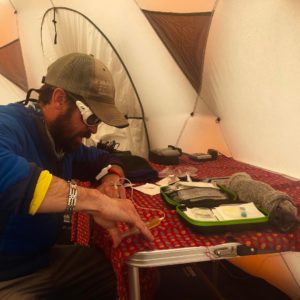 11) Finally, what's your message to people in the haemophilia community, who may be inspired – or even overwhelmed – by your achievements?

You have to find your Everest. My Everest was climbing the Everest but it's not everybody's goal, even if you don't have haemophilia. It's a case of finding something you're passionate about and taking the right steps towards achieving it.
I have a friend in the US, who has haemophilia and an inhibitor. He loves art and photography and has been doing this amazing project, sailing on a tall ship in the Arctic. He's chasing his Everest.
That's more what I want people to get out of my climbs; discover your dream and go do it. If you're persistent and keep working towards it, it's remarkable where you can actually end up!
—
We really want to thank Chris for being involved in our Factor This! blog series and inspiring us all to achieve, with or without haemophilia! Do YOU have an Everest? Let us know on Facebook or Twitter using the hashtag #FactorThis.  
If you would like to support Save One Life and sponsor an individual with haemophilia in a developing country, please visit their website.
You can keep up to date with Chris' activities by going to Adventures of a Hemophiliac. For more information on his documentary, Bombardier Blood, see here.
Until next time,
On The Pulse Team
---
Notes:
Chris' climb of Everest was sponsored by Octapharma, including his forthcoming documentary, Bombardier Blood (this feature is not an endorsement of their products or services).
Feature image of Chris is credit to Rob Bradford/Believe Limited; feature image design created by Two Cubed Creative.