In May 2017, Chris Bombardier defied multiple odds by becoming the first person living with haemophilia to summit the highest mountain on Earth – Mount Everest!
At the turn of the year, Chris followed up this incredible feat by scaling Mount Vinson in Antarctica, which was the last climb in his extraordinary dream of completing the Seven Summits.
The 32-year-old from Denver, Colorado in the United States (US) is a certifiable history-maker. Whilst this was a massive personal milestone and an accomplishment to be immensely proud of, Chris embarked on every climb with the primary purpose to help raise awareness and fundraise in aid of Save One Life; a non-profit organisation that supports individuals and their families affected by bleeding disorders in developing countries.
Chris, who goes by the pseudonym Adventures of a Hemophiliac, has not only put haemophilia firmly on the global map, but given hope and belief to many across the community of what is achievable, by making the impossible possible. Chris has partnered with the WEBBY-Award winning production team at Believe Limited, headed up by Patrick Lynch, to bring his haemophilia heroics to screen entitled, Bombardier Blood.
As part of our Factor This! blog series, we spoke with the mountaineer and all out adventurer for a two-part special, to learn more about his experiences of living with haemophilia and path to the top of the world…
1) Is haemophilia in your family, Chris?

My mum had two uncles with haemophilia. They had sadly passed away before I was born – one possibly from complications due to haemophilia – so all my parents knew was that if they had boys, they would need to be tested at birth.
My older brother hasn't got haemophilia, so when I was diagnosed with severe haemophilia B [clotting factor IX deficiency], my parents were like, "Oh no, what does this mean?" That was a rough little patch for them.
2) What was it like for you growing up?

I was so physically active! I played baseball my whole life. I wasn't on prophylaxis [or as Chris says, prophy) until I was about 12 or 13 years old and always thought that I didn't have many bleeds. I think maybe being so active helped prevent them to a point. But looking back in my treatment logs, I've realised I was having 7 or 8 a year, which would've definitely been better on prophy.
I wasn't that involved in the haemophilia community at this point. My parents tried but it never seemed like the right fit with the Colorado Chapter[i].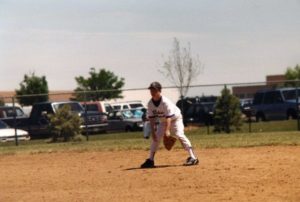 3) Why did you start prophylaxis?

Prophy wasn't really a thing here when I was a kid. The recombinant clotting factor IX hadn't come out yet and because of the contaminated blood disaster, everyone was very hesitant to use products.
Once I got to high school, I started having tonnes of bleeds. Playing baseball at this age, the ball starts coming faster and harder… even if you don't have haemophilia, you're going to get a nice bruise if it hits you! Sometimes I would be like, "I think it's fine" and let it go for two days. Then it would be a disaster!
My mum and the treatment centre basically said that if I didn't get on prophy, I wouldn't be able to play anymore. That was my first step. I realised that I needed to take care of myself and I also learned to self-infuse at 13.
4) So, your clinical team were happy about you playing baseball…

They were awesome and so supportive! We had a really great plan in place and any time that I got injured, I had an amazing nurse, physiotherapist and haematologist that would all just help me figure out how to get back to playing as fast as possible.
5) How did you find learning to self-treat?

I really hate needles. It's almost like a needle phobia… to that level! I remember at one point almost wanting to quit baseball because I hated infusing so much. It was so hard for me.
I remember sitting with the needle right above my hand – where I've always infused – trying to convince myself that I could do it. But I loved playing baseball and being physically active, so I just knew it was my only option.
6) At what point, would you say, were you effectively self-managing?

That's a great question… Probably not until my mid-twenties.
At college, I wasn't great at self-management. I was better than at high school because I knew I had to infuse to play. Still, if we didn't have baseball games that week, I wouldn't bother, which certainly wasn't a good thing.
I had a kind of a downturn with my self-care after college. I stopped prophying as I wasn't playing anymore, so I figured, "Why do I need to treat?" I was all over the place… it never got me into big trouble but I definitely had bleeds!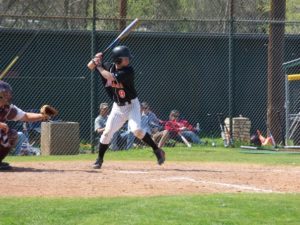 7) Tell us more about your college experience…

I got a part-scholarship to play baseball in Nebraska. It was awesome! I actually studied biology as I thought I wanted to become a doctor. I spent a lot of time in hospital and felt very comfortable around doctors, so thought this could be my career. I did the whole pre-med thing but realised studying for a further 10 years wasn't right for me. I just wanted to be outside all the time.
I graduated with a degree in biology but it was then when baseball ended. I wasn't good enough to play at the next level, which I think was in some part to do with my haemophilia. I had had lots of injuries, like pulled muscles and bleeds, so trying to keep up with the guys that didn't have haemophilia in a competitive sport was pretty challenging.
8) How did your attitude towards self-managing change?

After graduating and moving back to Colorado, without baseball I didn't have that drive to infuse anymore. What helped me the most was getting involved in the haemophilia community.
Meeting and talking with other guys about those challenges made me realise the importance of prophy. I turned the corner a little bit and was able to manage my own care more.
9) Has your treatment evolved at all?

Until I was in my twenties, I was on a standard recombinant clotting factor IX and treating three times per week. It can be so tedious and some days you're like, "Ugh, why do I have to do this?"
Funnily enough, I ended up working in the research lab at my treatment centre and was made aware of clinical trials being undertaken. I was around the treaters all the time and after a super long discussion, I decided to give one of the trials a shot.
It was great! Actually, being on a clinical trial helped me, too, since you have to infuse on a schedule, otherwise you get kicked off. That was for three years… three years of habit!
10) What first attracted you to climbing?

About a year and a half after I got back, I was searching for that new physical outlet. My dad's brother lived up in the Colorado mountains. We started hanging out and he was really big into mountaineering. We ended up going mountain biking in Utah, then rock climbing and stuff. I was like, "This is the new thing for me!" It just spiralled after that.
My uncle had climbed Denali in Alaska, one of the Seven Summits. I was so intrigued by his stories that we started to make plans to climb one together…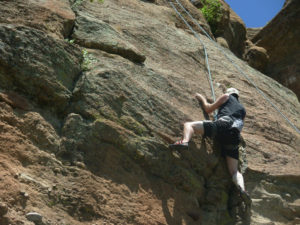 —
To be continued… Stay tuned for part two where Chris reveals all in the lead up to Everest, including his life-changing experience in Kenya, being on the ground in Nepal and managing his haemophilia throughout the biggest challenge he's ever faced!
Got a question for Chris? Something he said resonate with you? Please leave a comment below or get in touch using Facebook, Twitter or by email at [email protected]. 
Take care,
On The Pulse Team
---
Notes:
[I] In the US, a Chapter is a non-profit organisation dedicated to supporting people and their families affected by haemophilia and other bleeding disorders. These form part of a Chapter network, under the umbrella of the National Hemophilia Foundation.
Feature image of Chris is credit to Ladd Forde of Forde Photography; feature image design created by Two Cubed Creative.