There are only two weeks to go until one of the largest rare bleeding disorders patient gatherings on the continent – the 2018 European Haemophilia Consortium (EHC) Conference!
Along with the European Association of Haemophilia and Allied Disorders (EAHAD) Congress

and the World Federation of Hemophilia (WFH) World Congress

, the EHC Conference is one of the major community events of this year.
It is organised annually in a different European country. The Society of Patients with Haemophilia of Azerbaijan won the bid to host the 2018 conference in Baku. However, due to unforeseen circumstances, it has been moved to the Belgian capital Brussels instead; home to the EHC and the heart of European politics (don't worry, there is no mention of the B-word1 here!).
Over 300 participants ranging from patient advocacy groups and organisations, to policy makers and healthcare professionals, will come together on Friday 5th October for the three-day event. It will be a valuable opportunity to meet and share visions, co-construct ideas and set research agendas together, to advance the treatment and care of people with haemophilia and other bleeding disorders around Europe. We're really excited to be part of it!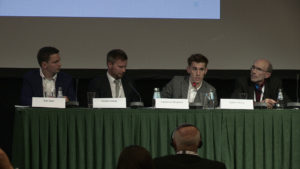 What can we look forward to seeing at conference?
Haemophilia management varies across Europe and there remain significant unmet needs and setbacks in many aspects of patient care.2 In Azerbaijan, for example, below 10% of people living with haemophilia have access to home treatment, whilst less than half of diagnosed children are provided with prophylaxis.2
The diverse streams and conference sessions are put together in order to address some of these key issues, as well as the latest developments and innovation in haemophilia and bleeding disorders care.
There will be a dedicated focus on the EHC PARTNERS initiative, which EHC President, Brian O'Mahony

, highlighted in our Factor This! blog series

. The conference also hosts the now-infamous Youth Debate, where tandems of youth and established leaders in the haemophilia community go head to head on what are often considered to be controversial topics. Other sessions include novel therapies, gene therapy, women and bleeding disorders as well as the company-sponsored symposiums, in which we'll have a presence.
The preliminary programme is available to view here.
If you're also attending the EHC Conference, or have any questions about our activities whilst there, please feel free to get in touch via our contact form or directly by email at [email protected] (please refer to our privacy policy statement here).
Also, be sure to follow us on Twitter using @Pulseinsync for conference updates and our key highlights from each day. The official conference hashtag is #EHC2018.
#ThisWay Campaign
The EHC have been inspiring members of the bleeding disorders community to get moving by uploading a video themselves on social media, whether that's walking the dog, taking a swim, or climbing some stairs.
Their campaign entitled #ThisWay is to help spread awareness on the importance of physical activity for the likes of people living with haemophilia, where participation in non-contact sports are encouraged by the WFH to improve joint, bone and muscle health.3
EHC staff will be cycling 30 kilometers – over 18.5 miles – from the city of Leuven, located in the Flemish region of Belgium, to Brussels ahead of the conference to celebrate members' contributions.
We wish all the team the best of luck!
On The Pulse
---
Notes:
Reference: O Mahony B, Savini L, O Hara J, Bok A. Haemophilia care in Europe – A survey of 37 countries. Haemophilia. 2017;00:1–8. https://doi.org/10.1111/ hae.13263