Since the turn of the year, On The Pulse has welcomed into the fold a very enthusiastic and impressive extra pair of hands to support our research activities – meet Lauren Thompson.
Lauren is currently studying an MSc in Health Psychology at the prestigious King's College London; one of the UK and world's top-ranking universities based in the heart of the capital.
As part of the master's programme, students within the health psychology section of the Institute of Psychiatry, Psychology & Neuroscience (IoPPN) are offered unique, high quality work placements to put their learning and academic skills into practice.
We teamed up with Dr Lyndsay Hughes, a lecturer at the institute, to collaborate on our ongoing project development around peer-led health promotion for young people living with haemophilia. In turn, we've been able to host a placement and were elated that Lauren chose to join us for a four-month period!
Lauren was brave enough to take the hot seat to share a snapshot of her background and placement experience with us…
1) So Lauren, please can you tell us a bit about yourself…

I grew up in the East End of London and, actually I'm the first in my family to go to university! My family have always been really supportive of my academic work, which I think has inspired and encouraged me to achieve more. My mum would always tell me, 'Your best is all you can do!' This is something I have to remind myself of…
I did my undergraduate Psychology degree at the University of Bristol and just fell in love with the place. The University is embedded in the city, which is very much like the campuses at King's. Being back here in London, there is always something fun and interesting going on, which is important to me, especially after a long day of lectures and library stints working on assignments!
I started kickboxing during my last year at Bristol and have recently taken up self-defence classes with some friends. It's a great distraction from all the work I've yet to complete – clearly living up to the student stereotype!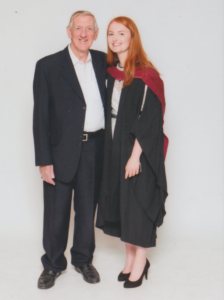 2) Why did you choose to study health psychology?

I hadn't previously come across health psychology as I know it today. To be entirely honest, as my graduation approached, I began looking into studying a master's degree, although I still wasn't quite sure what my next steps would be. Is that bad? I feel like lots of students reach a crossroads and consider whether to continue studying or not. When I was looking through the courses available, the MSc at King's sounded right up my street!
During my undergraduate, some of my favourite topics were those discussing how health behaviours, such as smoking, are related to mental health and wellbeing. What I find most interesting is how relevant these topics are to everyday life and how important it is to understand them in the context of the issues faced across healthcare. Health psychology gives me the opportunity to apply psychological principles to the study of behaviour relevant to health, illness and healthcare more broadly. Overall, I want to help people in any way that I can and studying this course teaches me about how I can apply different methods to support those impacted by life-long, chronic conditions in particular.
I am excited to see where my studies take me!
3) Did you know about haemophilia before starting your placement? Has anything surprised you?

I didn't know a lot about haemophilia. I was aware of the condition after learning about genetics and genetic disorders in school. Because the actual condition isn't discussed in great detail, I think there is a common misconception that the primary concerns relate to bleeding heavily from small cuts. But I now realise there is so much more to it. Most surprising to me, when speaking to fellow students, is how little awareness there seems to be of haemophilia!
I was taken aback by the potential severity of haemophilia and what those with the condition must go through, especially at such a young age. As young people, we already have so much to contend with as we try to learn how to navigate through the world into adulthood. For some of us, this transition can be relatively smooth but for others, truly understanding who you are, what you like and what you want to do in life can be really daunting. So, for young people living with haemophilia, to have to go through these same challenges, in addition to adjusting to the trials and tribulations that can come with having a chronic condition, is remarkable!
Hearing about adolescents living with haemophilia learning to self-infuse typically as young as 11-years-old was also really surprising to me, particularly when thinking of myself at that age. But ultimately, understanding that complete self-management isn't achieved for some until their early 20s, with a lack of support currently for young people during this transitional period, only highlights the importance of work in this area.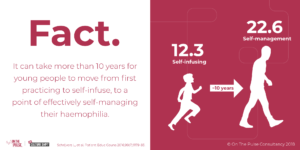 4) There were a number of placement opportunities to choose from… why this one?

What caught my interest the most was the opportunity to support the research around improving the patient experience for young people – in this instance living with haemophilia – where the focus was centred on developing a peer support intervention in a systematic way, underpinned by behaviour change theory and techniques. I could directly apply what I had been learning across my course and leverage my understanding of behavioural change models to map on to evidence-based intervention content. It was a blend of personal interest and supporting a really worthwhile cause!
The project is still in its infancy, so it was a truly exciting opportunity to have an influence from the very beginning and hopefully the research will lead to making a real difference for all young people living with haemophilia.
5) What are your most valuable takeaways from the placement so far?

Tough question! It's certainly taken me out of my comfort zone and been a massive growth experience, particularly when it comes to the intricacies of project development. I've definitely gained insight into research theory and techniques beyond that of my studies. The benefit of doing a work placement with a small independent company is that I've been in the thick of the action – let's just say, there's been no hiding!
As much as I'm eager to be involved in creating positive change for people with health-related needs and challenges, this placement has reminded me of just how vital the initial research stage is when conceptualising interventions or service improvement. It has to be meaningful and wholly involve the people for whom the intervention is being tailored for, should it truly intend to have a lasting impact on the target demographic and enhance people's quality of life.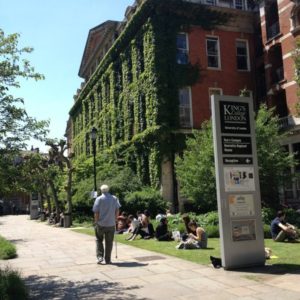 6) Could see yourself working in haemophilia or the wider rare disease community in the future?

Definitely! The resilience of people within this community is really inspiring. It's clearly an exciting time with lots of innovation happening in haemophilia and rare diseases generally. But there still seems big gaps in support services in order to tackle the challenges that people living with a rare disease and their families face on a daily basis.
I would like to continue in this strand of work of engaging young people in their healthcare, including helping them to make their own informed decisions and have a say in the services made available for them. This has very much inspired my interest in patient and public involvement. I could apply my understanding of good research practices and help to embed the patient voice within healthcare services.
There are still lots that we can learn from young people living with haemophilia and other rare diseases and hopefully some really exciting opportunities will present themselves where I can influence positive change.
––– End –––
We would like to thank Lauren for all of her hard work and support, and fully immersing herself into our world!
If you would like to learn more about our collaboration with Dr Lyndsay Hughes and King's or have any questions for Lauren directly, please get in touch via our contact page (please refer to our privacy policy statement here).
You can also keep up to date with all of our activities by following us on Twitter, Instagram and LinkedIn.
On The Pulse