The latest episode of BloodStream™, a bleeding disorders community podcast, is now freely available to listen to, featuring a guest appearance from On The Pulse director, Laurence Woollard, talking all things informed consent for gene therapy in haemophilia.
Laurence is accompanied by Dr Rich Gorman and Dr Dakota Rosenfelt as they unpack for listeners their recently published journal article, 'Improving patient informed consent for haemophilia gene therapy: a case for change'.
In the 40-plus minute episode, BloodStream™ hosts, Patrick James Lynch and Amy Board, explore with the co-authors some of the dynamics and complexities involved when consenting to 'irreversible' treatments like gene therapy, including patients' analysis of benefit-risk and the readability and comprehensibility of consent forms. Also, Laurence, Rich and Dakota discuss potential strategies and action-oriented takeaways from the paper to enhance the consent procedure, such as emphasising consent as a process and the co-opting of an independent patient expert to provide an unbiased voice in the proceedings.
Whether you are new to the wonderful world of podcasts or searching for a fresh recommendation, this one is not to be missed! Listen to the episode here.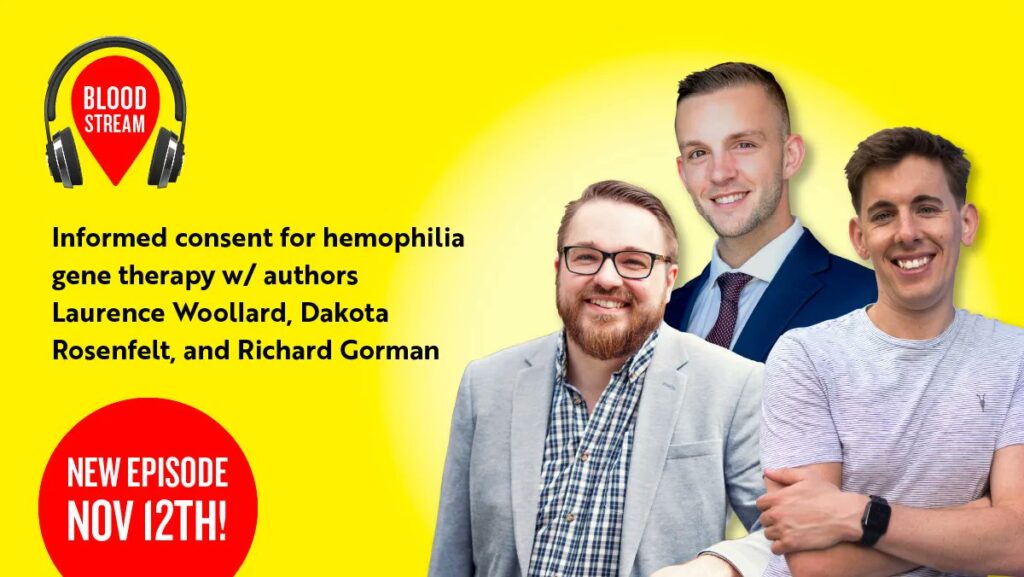 About BloodStream™
BloodStream™ is a free monthly podcast that takes a 360-degree look at the bleeding disorders community, complete with news, interviews and informed opinion. BloodStream™ was founded by the filmmaker and global bleeding disorders advocate, Patrick James Lynch, and is produced by Believed Ltd. BloodStream™ is part of the BloodStream™ Media Podcast Network. Subscribe to BloodStream™ on iTunes, YouTube, Spotify or your preferred podcast player.
Contact us
Have any questions or would like to know more? Please get in touch via our contact page (you can refer to our privacy policy statement here).
You can also connect with us on Twitter, Instagram and LinkedIn.
On The Pulse